At Nappa, Monterosso & Poznansky, LLP, our mesothelioma lawyers help injured workers and their families throughout the greater NYC area get the benefits and compensation they deserve. As born and raised Staten Islanders, the well-being of our neighbors is a top priority. If you or a loved one is suffering from symptoms of asbestos exposure or have been diagnosed with mesothelioma, we can evaluate your case and advise you of the best path forward.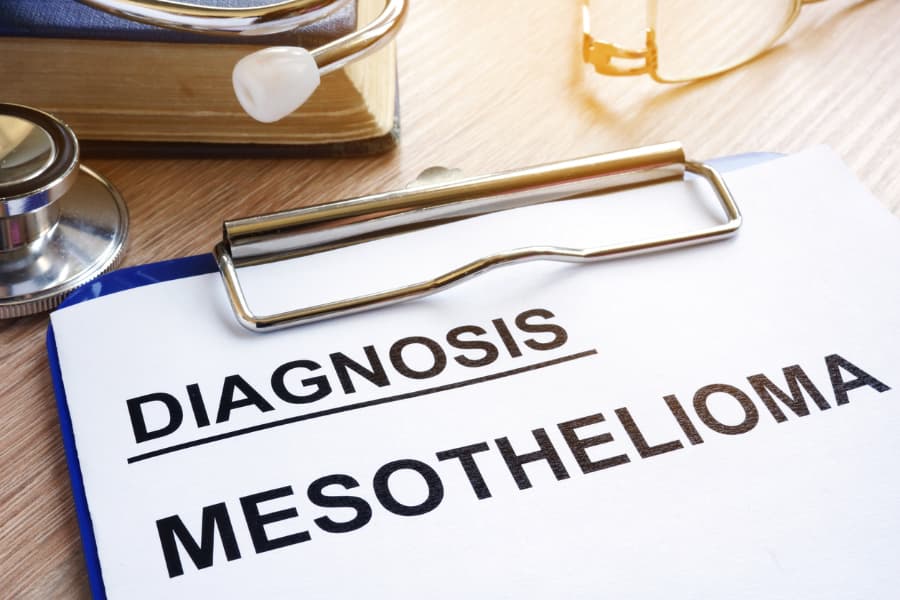 What is Mesothelioma?
Mesothelioma is a type of cancer that affects the lining of the lungs. It also can affect the lining of the abdomen, heart, and testicles. The most common cause of mesothelioma is exposure to asbestos, a material that was widely used in construction, shipbuilding, and other industries due to its heat-resistant properties.
When asbestos fibers are inhaled or ingested, they can cause inflammation and, eventually, the development of mesothelioma and other serious conditions. Asbestos exposure symptoms may not appear for decades, and unfortunately, by the time they are apparent, mesothelioma and other lung diseases often are in advanced stages.
Who Is at Risk for Asbestos Exposure?
According to the American Lung Association, eight out of 10 people with mesothelioma report asbestos exposure. Although the use of asbestos has decreased significantly due to regulations and awareness of its health risks, certain industries may put workers at a higher risk of exposure, including:
Construction
Demolition
Shipyards
Industrial settings
Mechanics and other automotive workers
Mining
Firefighting
HVAC
Family members of people who work in asbestos-related industries also may be at risk for developing mesothelioma, as workers can bring home asbestos fibers on their clothing, skin, or hair. Our attorneys have seen the devastating impact asbestos-related diseases have on families in the greater NYC area and are dedicated to helping make things right for them.
Symptoms of Mesothelioma
Symptoms of mesothelioma include:
Chest pain
Difficulty breathing
Fluid buildup in the lungs or abdomen
Weight loss
Fatigue
Night sweats
Loss of appetite
Nausea
Diagnosis typically involves imaging tests, biopsies, and other medical procedures. If you've been diagnosed with mesothelioma or another work-related lung disease, it's important to contact a mesothelioma lawyer as soon as possible, as these cases are complex and statutes of limitations on filing claims for compensation in New York may apply.
Treatment for Mesothelioma
The prognosis for mesothelioma is usually poor, but advances in treatment and ongoing research offer hope for improved outcomes in the future. Treatment options for mesothelioma are costly, and may include surgery, chemotherapy, radiation therapy, and, in some cases, experimental therapies. Hiring a lawyer with experience in occupational disease claims can help to ensure you receive the full amount of benefits and compensation for your medical treatment and ongoing care.
New York Workers' Compensation Benefits for Mesothelioma
If you were exposed to asbestos in the workplace and have developed mesothelioma, you may be eligible for workers' compensation benefits in New York. Workers' compensation covers the cost of medical care, wage loss, and death benefits if a worker dies due to an occupational disease or injury. A mesothelioma lawyer can help you understand your options and assist you with your workers' compensation claim or appeal. Additional sources of compensation also may be available to supplement workers' compensation, such as personal injury claims and Social Security Disability benefits.
What Is an Asbestos Trust Fund?
Asbestos trust funds play a vital role for those who suffer from mesothelioma and other occupational diseases due to asbestos exposure. Many companies that exposed workers to asbestos have gone bankrupt. Asbestos and mesothelioma funds typically are established during the bankruptcy process to ensure there is compensation available for future asbestos-related claims.
In New York City, people suffering from mesothelioma, lung cancer, or asbestosis, or those who have lost someone to one of these diseases, may be able to file a claim for damages with the New York City Asbestos Litigation (NYCAL) court. A mesothelioma lawyer at Nappa, Monterosso, and Poznansky, LLP, can help you navigate the complex claims process and fight to recover the full amount of compensation you may be entitled to receive.
Although no amount of money can change what has happened, monetary compensation helps take a financial weight off victims' shoulders and can give them a sense of justice and accountability. If you are suffering from mesothelioma or have lost a loved one, you may be entitled to damages such as pain and suffering, loss of enjoyment of life, wrongful death damages, and other non-economic damages that aren't covered by workers' compensation in New York.
Why Choose Our Mesothelioma Attorneys?
Nappa Monterosso, & Poznansky, LLP, is the largest work injury law firm on Staten Island. We understand the physical, emotional, and financial impact that mesothelioma and other asbestos-related conditions can have on your life. Our mesothelioma lawyers have been dedicated to serving injured workers and their families in the greater New York City area for decades. We offer compassionate, personalized attention and legal services you can trust.
We work tirelessly to help you recover the compensation and benefits you need to receive proper treatment and protect your family's financial security. Mesothelioma cases are complex, especially when both workers' compensation claims and asbestos injury claims are involved. These claims can affect the total amount of compensation you may receive, so having an experienced lawyer in your corner is vital.
Attorney and partner Rolando Cubela is proud to offer legal counsel and representation to our Spanish-speaking clients.
Contact a Mesothelioma Lawyer in the Greater NYC Area
If you or a loved one is suffering from mesothelioma, asbestosis, or another work-related lung disease, our team at Nappa, Monterosso & Poznansky, LLP, can help you get through it and work to obtain the full amount of compensation and benefits you deserve. To schedule a free case evaluation with a mesothelioma attorney in the greater New York City area, call us at 718-273-9000 or contact us online.