Industrial Accidents in New York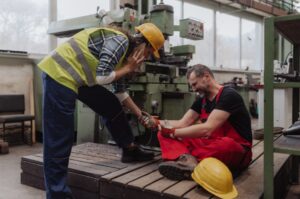 Workers in industries like manufacturing, construction, and warehousing face a high risk of on-the-job injuries that can be life-altering. At Nappa, Monterosso & Poznansky, LLP, our workers' compensation attorneys understand the unique risks that industrial accidents pose to workers. For more than three decades, we've helped workers in the Greater NYC area maximize their benefits and compensation after a workplace injury.
Common Industrial Accidents
Although workplace injuries can happen anywhere, there is a higher rate of occupational diseases and injuries in sectors such as:
Warehousing and transportation

Agriculture, forestry, and fishing industries
Industrial accidents in New York often occur due to hazardous conditions or negligence. New York labor laws and OSHA set standards to ensure workplace safety; however, many employers shirk their duties to provide a safe workplace to protect their bottom line. When employer negligence keeps safety protocols from being implemented or enforced, catastrophic injuries and fatalities are inevitable.
Common causes of workplace injuries in industrial settings include:
Defective machinery and tools

Ladder and scaffolding accidents

Forklift and heavy machinery accidents

Heavy machinery accidents

Repetitive stress injuries

Untrained or improperly trained workers

Failure to warn or communicate
Types of Injuries Caused by Industrial Accidents
Our attorneys are no strangers to helping clients who have suffered industrial accident injuries. If you've been hurt at work, it's critical to seek medical help and report your accident and injury to a supervisor as soon as possible.
From moderate to catastrophic injuries, our workers' compensation lawyers have seen it all. Some common types of industrial accident injuries include:
Amputations and dismemberment

Scarring and disfigurement

Injuries and occupational illnesses caused by chemical exposure

Head, neck, and spine injuries

PTSD, anxiety, and depression
Our work injury lawyers know how to collect relevant evidence, such as incident reports, witness testimony, and medical records to support your workplace injury claims. We fight to help clients attain successful outcomes that protect their health and financial well-being.
New York Workers' Compensation Claims
New York workers' compensation law requires employers to carry insurance to cover medical bills for work-related injuries and wage replacement benefits. Regardless of who was at fault for an accident or injury, you can file a workers' compensation claim. Generally, you are not permitted to file a personal injury claim against your employer if they have workers' compensation insurance.
Third-Party Personal Injury Claims
Although typically you can't file a lawsuit against your employer, a personal injury lawyer may be able to help if a third party is responsible for your workplace injuries. This can allow you to recover compensation for damages that workers' compensation doesn't cover, such as:
Loss of enjoyment of life
Some common third parties who may be liable for damages include subcontractors, product manufacturers, other motorists (if you were driving on the job), property owners, or other parties. If you believe someone else's negligence may have caused an industrial accident or injury, it's important to consult an experienced work injury lawyer. These cases are complex, and proving negligence can be challenging. To maximize the benefits and damages you may receive, you also need an attorney who understands how workers' compensation claims and personal injury settlements can impact each other.
Why Choose Our Workers' Compensation Lawyers?
After an industrial accident, you may worry about how you'll pay your bills and earn a living. Our compassionate team knows how stressful this can be, and helps take some of the weight off your shoulders. We act as your staunch advocates and help to ensure you get the full amount of benefits and compensation you're entitled to under the law. It can be extremely challenging to deal with insurance companies. We handle all communications and negotiations so you and your family can focus on your recovery.
Whether you've suffered a minor or catastrophic injury, we offer frank advice and always keep your best interests at the forefront. Your initial consultation is free. Our attorney Rolando Cubela is ready to serve our Spanish-speaking clients in Staten Island and throughout the Greater NYC area.
Contact Our New York Industrial Accident Attorneys
Whether you need assistance with a workers' compensation claim, Social Security Disability, or third-party work injury claim, our experienced team at Nappa, Monterosso & Poznansky, and LLP can help. Our work injury lawyers are proud to be part of the largest workplace injury law firm in Staten Island. To schedule a free case evaluation, call us at 718-273-9000 or contact us online.