Warehouse Injuries in New York City
Warehouses usually are bustling workplaces that require a lot of organization and discipline to run properly. The operation of forklifts and other equipment, heavy lifting, and the risk of falling objects and other hazards can make them inherently dangerous places to work. For more than 30 years, our workers' compensation lawyers at Nappa, Monterosso & Poznansky, LLP, have helped workers recover the benefits they need after a warehouse accident or injury. We're dedicated to helping clients throughout the greater New York City area heal and move on with their lives after being hurt at work.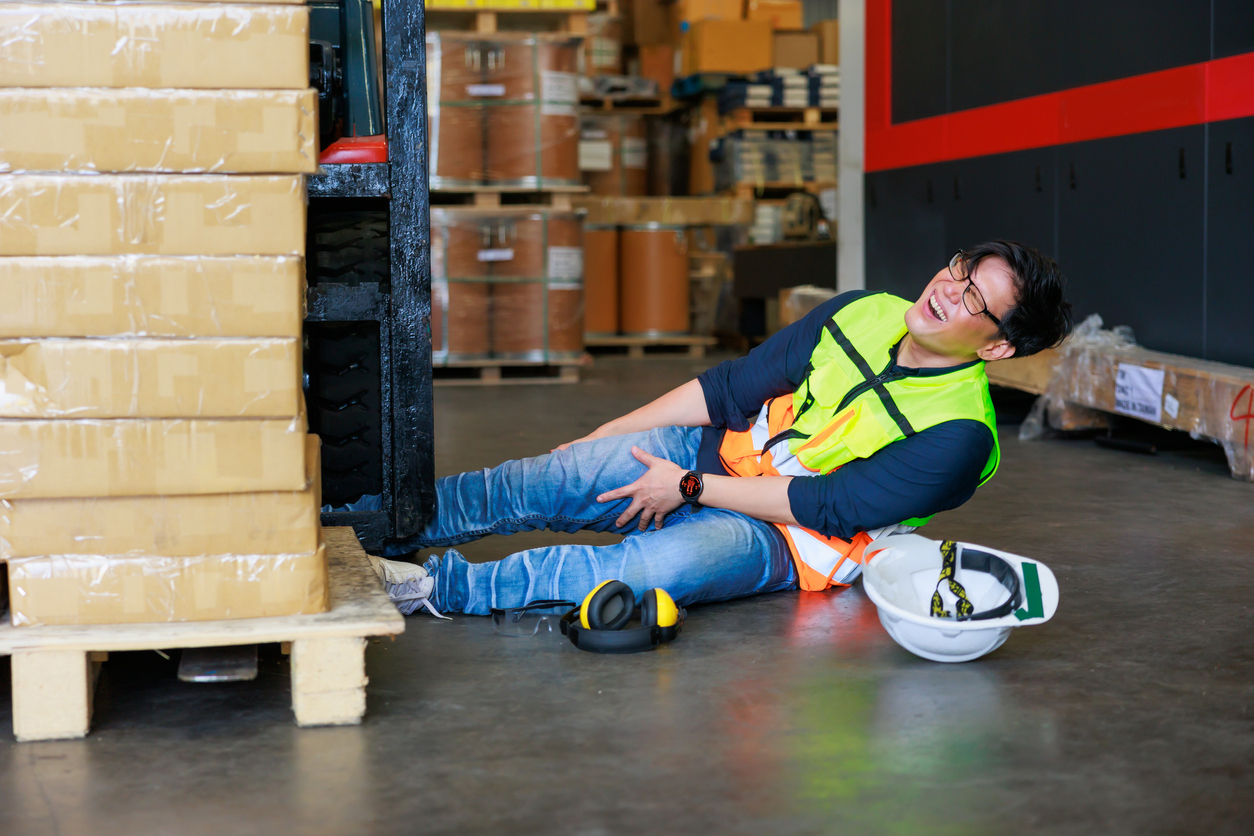 Common Causes of Warehouse Injuries
Although workplace injuries can happen anywhere, warehouse accidents can result in serious conditions that require long-term care. Common causes of warehouse injuries include:
Slip, trip, and fall accidents – Wet floors and other slippery surfaces can lead to workers slipping, falling, and becoming injured. Cluttered aisles, cords and hoses lying across walkways, and falling off loading docks or elevated platforms all are common causes of warehouse accidents.
Forklift accidents – Unfortunately, forklift accidents are a common cause of warehouse accidents and workplace injuries. It's crucial for workers who operate forklifts to be properly trained and certified. Proper training and adherence to safety protocols can help prevent accidents like overturning or running into someone with a forklift, which can cause catastrophic injury or death.
Loading dock injuries – Many different types of workplace injuries occur at loading docks, including:

Pallets tipping and falling onto a worker
Falling from a dock platform
Being hit by a falling load or cargo
Being struck by a truck backing up
Workers becoming pinned between a forklift or truck and a wall
Being crushed by an overhead door or gate
Injuries to the hands and fingers when unloading a truck or operating a dock leveler

Lifting injuries – When workers try to lift heavy objects or move them improperly, serious back, shoulder, and spine injuries can occur. Pushing and pulling heavy items such as loaded pallet jacks can also cause workplace injuries. Training warehouse workers to properly lift and carry items can help them avoid lifting injuries.
Falling objects and falling from heights – In many warehouses, products are stacked so high that a ladder or forklift may be required to reach them. Falling from a ladder or being struck by a falling object can result in back injuries, broken bones, head injuries, and soft tissue injuries such as sprains and strains. In some cases, an accident may cause catastrophic injuries such as paralysis or traumatic brain injury.
Repetitive stress injuries – Some duties involved in warehouse work require repetitive motions that cause occupational injuries such as carpal tunnel syndrome. Numbness, pain, tingling, and weakness in the arms, wrists, shoulders, and back are indicators of a repetitive stress injury. Unfortunately, many workers ignore these symptoms until they become debilitating.
Chemical exposure – Some warehouse workers face exposure to dangerous substances. Whether they're required to handle hazardous chemicals or are unknowingly exposed, serious workplace injuries and illnesses such as damage to the eyes and lungs can occur. Flammable materials also can cause fires or explosions, so it's important for employers to provide proper training and do regular inspections of the premises to avoid injuries caused by chemical exposure.
Our workers' compensation lawyers understand the physical, emotional, and financial impact of being seriously hurt at work. We're not afraid of going up against resistant employers or insurance companies. We act as your staunch advocates and aggressively represent your interests.
New York Workers' Compensation Benefits for Warehouse Injurie
If you or a loved one was hurt in a warehouse accident or has sustained a repetitive strain injury or occupational disease, our workers' compensation attorneys can help. Workers' compensation can provide coverage for medical bills, wage loss, and other injury-related expenses. Obtaining the full amount of compensation you need can be challenging – employers and their insurers often try to minimize employees' injuries to pay as little as possible on claims.

As the largest workplace injury law firm in Staten Island, we've successfully helped workers obtain benefits in all types of warehouse injury claims. Our team handles all aspects of your claim so you can focus on healing. If your workers' compensation claim was denied, we can assist you with an appeal. We help you understand your rights throughout the process and fight to help you recover the benefits you need and deserve to take care of your health and your family.
Third-Party Injury Claims
Workers' compensation does not cover damages such as pain and suffering, emotional distress, or loss of consortium. Serious workplace injuries can significantly diminish your quality of life. Generally, New York prohibits workers from suing their employers, even in cases involving employer negligence. However, if your occupational injury or illness was caused by another party who is not your employer, you may be able to bring a personal injury claim against them.

Filing a personal injury claim for damages can help hold negligent parties accountable and provide additional compensation for your losses. In some cases, an injured worker may qualify for Social Security Disability Insurance benefits as well.
Why Choose Our Workers' Compensation Lawyers?
Regardless of the types of claims you're considering, it's crucial to seek the counsel of an experienced workers' compensation lawyer. Each claim can have an impact on the total amount of compensation you may obtain. Our attorneys know how to help you maximize your benefits and compensation, which is tough to do on your own if you're unfamiliar with how the system works.

At Nappa, Monterosso & Poznansky, LLP, we care about our clients and their families. Attorney and partner Rolando Cubela is multilingual and provides exceptional legal representation for our Spanish-speaking clients.
Contact a Workers' Compensation Lawyer in the Greater NYC Area
Our workers' compensation lawyers at Nappa, Monterosso & Poznansky, LLP, understand that warehouse injuries can be life-changing. If you or a loved one has been injured on the job in the greater NYC area, our team is here for you. To schedule a free case evaluation, call us at 718-273-9000 or contact us online.