Construction Site Injuries in New York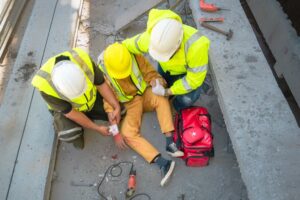 The risk of injury for construction workers is higher than almost any other profession in the U.S., and there are thousands of active construction projects in the Greater NYC area at any given time. To minimize workplace injuries, it's critical that the highest safety standards are implemented and followed on construction sites. For more than 30 years, our workers' compensation attorneys at Nappa, Monterosso & Poznansky, LLP, have helped workers injured at construction sites get the benefits and compensation they need.
Types of Construction Site Accidents
Unfortunately, employers often ignore safety precautions and protocols to cut costs and finish jobs more quickly. Common causes of construction site accidents include:
Falls from elevated structures due to lack of fall protection

Holes, ditches, and tripping hazards such as materials and debris

Defective or broken tools

Lack of training for operating heavy machinery and complex equipment

Lack of safety protocols when working near power lines

Building/ceiling collapses

Lack of proper protective gear

Failure to post proper warning signs
Under NYC labor laws, contractors and owners are legally required to provide proper, reasonable protection to workers on construction sites. In addition, there are strict rules for using scaffolding and other regulations that must be followed.
Many construction site injuries and accidents are preventable. Although New York workers' compensation law usually prohibits you from suing your employer, if another party caused an accident or injury, they may be liable for damages. If a sub-contractor, equipment manufacturer, or another party is at fault, you may be able to recover compensation for damages. Our attorneys thoroughly assess your case and advise of your options.
Construction Site Injuries
When a worker suffers a catastrophic injury, the results can be life-altering. Other types of injuries sustained on construction sites can also have serious physical, emotional, and financial consequences. Some common construction site injuries include:
Illness or injury caused by toxic chemical exposure
Seeking Compensation after a Construction Accident in New York
Many workplace injuries that occur on construction sites may require extensive medical treatment. An injured worker may no longer be able to perform the same tasks or even work at all. Costly medical care, ongoing treatment, and being out of work can put you and your family in a perilous financial situation. Our construction accident attorneys also understand the devastating impact these types of injuries can have on your quality of life.
If your injury occurred due to negligence, our workers' compensation lawyers work closely with personal injury lawyers to determine the most effective path to helping you maximize the full and fair amount of compensation to which you may be entitled.
Workers' Compensation Benefits
Our law firm has helped thousands of workers in New York obtain workers' compensation benefits after an on-the-job injury. Workers' compensation benefits provide coverage for:
Depending on the circumstances, it may be beneficial to apply for Social Security Disability as well. Our team is well-versed in helping injured workers understand how each type of benefit may affect the other and can help you with your application or appeal.
Third-Party Personal Injury Lawsuits
Other parties besides your employer may be liable for damages if negligence caused your workplace injuries. Potentially responsible parties include:
Manufacturers of defective products, such as equipment, machinery, or tools.
Types of Damages You May Recover in Third-Party Construction Accident Claims in New York
Unlike workers' compensation benefits, a personal injury settlement may cover both economic and non-economic damages such as:
Injury-related costs, such as in-home care, home modification, medical devices, and other expenses

The full amount of your lost wages and future earning capacity

Loss of enjoyment of life

Disfigurement and scarring

Other damages specific to your case
If a loved one suffered fatal injuries while on the job, you may be entitled to file a death claim. The types of beneits to which you may be entitled will depend on the specific circumstances surrounding the accident and your relationship with the decedent.
Why Choose Our Workers' Compensation Lawyers?
Navigating New York Workers' Compensation law is challenging, especially when you're hurt and trying to focus on your recovery. When you add a third-party personal injury lawsuit into the mix, things become even more complicated. Although these two claims are separate, they can impact each other, so it's critical to have experienced construction site lawyers and personal injury attorneys on your side.
The attorneys at our workplace injury law firm are strong, dedicated advocates for workers in the Greater NYC area. Attorney Rolando Cubela provides quality legal representation to our Spanish-speaking clients as well. We care about you and your family and do our very best to help you recover the maximum benefits and compensation you deserve to heal and move on with your lives.
Contact Our Construction Site Lawyers
As the largest workers' compensation law firm in Staten Island, Nappa, Monterosso & Poznansky, LLP is proud to serve injured construction workers in the Greater NYC area. Your initial consultation is always free. Our work injury lawyers can help you understand your rights and work to help you maximize your benefits and compensation. To schedule a free case evaluation, call us at 718-273-9000 or contact us online.