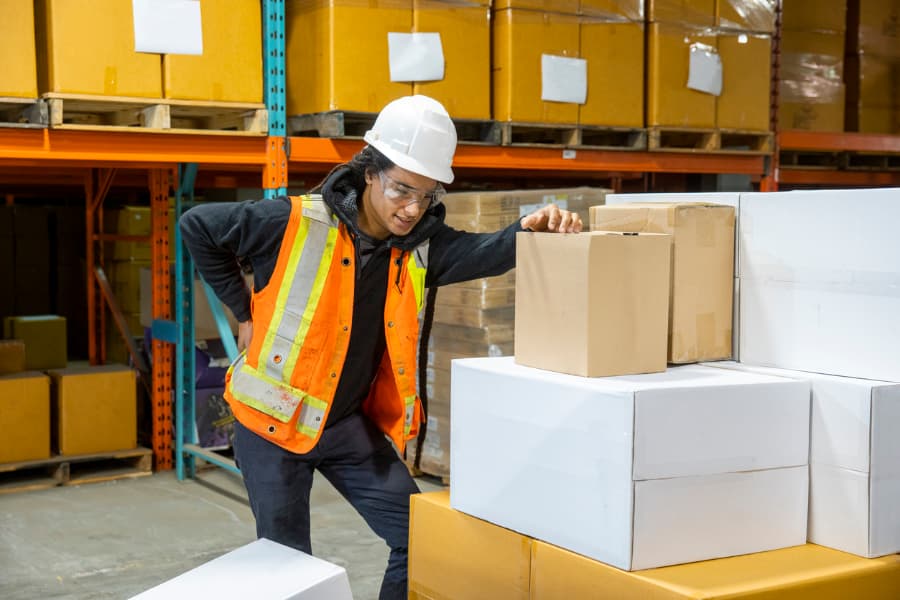 Injuries from lifting heavy objects or lifting items incorrectly can affect your ability to perform daily activities and enjoy the things you love. At Nappa, Monterosso & Poznansky, LLP, our workers' compensation lawyers understand the complexities of claims involving workplace injuries caused by lifting. For more than 30 years, we've helped injured workers throughout the greater NYC area obtain the full amount of benefits and compensation they need to get quality medical care and safeguard their finances.
Types of Lifting Injuries
Lifting injuries are among the most common types of workplace injuries. Although some injuries from lifting, carrying, pushing, and pulling items develop over time, most are sustained in just one incident.
Types of injuries that can result from lifting objects at work include:
Strains and sprains, including pulled muscles and torn ligaments or tendons
Spine injuries, such as herniated discs and fractured vertebrae
Nerve damage, such as peripheral nerve injuries and pinched or compressed nerves
Joint injuries to the shoulders, wrists, hands, fingers, knees, ankles, and lower back
Hernias, particularly in the abdominal and groin areas
Broken bones, from dropping items on feet or hands
Repetitive strain injuries, such as tendonitis, carpal tunnel syndrome, and tennis elbow
Common Causes of Lifting Injuries
Although a lifting injury can happen anywhere, certain professions and workers are more at risk for these types of injuries, including:
Nurses and other hospital workers
There are countless ways in which lifting injuries may occur. Some of the most common causes include:
Repeated lifting of heavy objects

Dropping objects while lifting them

Lifting objects improperly

Pushing or pulling heavy items such as hospital beds or pallets

Carrying heavy or large objects
Employers have a responsibility to train their employees on how to properly lift and carry objects. Unfortunately, some employers overlook this important training, which leads to workers getting hurt on the job.
Workers' Compensation for Lifting Injuries
Luckily, most injuries from lifting don't require major medical treatment. However, if you have a pre-existing condition or have hurt your back before, a lifting injury could exacerbate it. Workers with more serious injuries may live with chronic pain and require costly medical treatment, such as surgery, hospital stays, and physical therapy. In addition to being in physical pain, the financial repercussions of being unable to work can cause stress and anxiety.
Workers' compensation claims for lifting injuries can be complex. In cases involving repetitive stress, the insurance company or employer may argue that it was the result of activities someone engaged in outside of the workplace. Pre-existing injuries also can be a point of contention that insurers use to try and minimize or deny claims. We fight to help you get the workers' compensation and Social Security Disability Benefits you need after a workplace injury.
Third-Party Workplace Injury Claims
In New York, workers typically are prohibited from suing their employers, even if employer negligence played a part in an accident or injury. However, there are some circumstances in which you may be able to file a personal injury claim. If your injury was caused by a defective product or a negligent third party who is not your employer, you may be able to file a claim and recover damages for pain and suffering, loss of consortium, and other injury-related damages.
Safe Lifting Practices
Knowing how to lift items safely, using equipment appropriately, and being mindful of how you perform tasks can help you avoid injuries from lifting objects at work. Some things you can do to protect yourself include:


Ask for assistance – Enlisting the help of a coworker can make a heavy job much lighter and help avoid injury.
Use equipment – Forklifts, pallet jacks, and other types of equipment are useful for moving awkwardly large or heavy objects.
Maintain good posture – Proper posture helps workers avoid injuring themselves while lifting or moving heavy objects. Keep your feet shoulder-width apart, your back straight, and your shoulders back when lifting.
Bend your knees, not your back – Do not attempt to lift or put something down by bending forward. When lifting something heavy off the floor, squat down, bending only at the knees and hips. Slowly straighten your knees and hips while lifting.
Avoid turning or twisting – Never twist or turn your body while lifting, holding, or carrying a heavy object. Keep shoulders in line with your hips, and lead with your hips if you need to change direction.
Keep objects close to your body – Holding heavy objects close to your body in the torso area is one of the best ways to avoid lifting injuries. Never lift a heavy object with arms outstretched or above shoulder level.
Why Choose Our Workers' Compensation Attorneys?
Our workers' compensation lawyers in Staten Island understand that being hurt at work can have a substantial impact on all areas of your life. We aggressively pursue the maximum amount of benefits to which you may be entitled under New York Workers' Compensation law. Attorney and partner Rolando Cubela is bilingual and is proud to serve our Spanish-speaking clients. Regardless of whether you're filing a new claim or your workers' compensation claim has been denied, our work injury law firm can help.
Contact a Workers' Compensation Lawyer in New York
If you need help with a workers' compensation claim for a lifting injury in the greater NYC area, the team at Nappa, Monterosso & Poznansky, LLP, is here for you. To schedule a free case evaluation with a workers' compensation lawyer, call us at 718-273-9000 or contact us online.